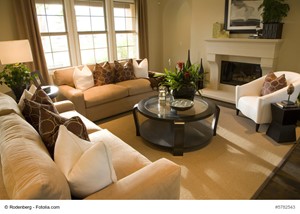 Ready to transform your home's interior from bland to fabulous? Ultimately, how a seller approaches home interior improvement projects is important. If a seller does everything possible to upgrade a house's interior, this individual could reap the benefits of a successful property selling experience.
Now, let's take a look at three tips to help you give your residence an interior makeover.
1. Analyze the Current Condition of Your Home
Although a home inspection generally is requested by a buyer after a seller accepts an offer to purchase a house, it may be helpful for a seller to complete an inspection before listing a residence. In fact, an inspection may enable a seller to analyze the current condition of his or her residence and prioritize home interior upgrades accordingly.
Many home inspectors are available in cities and towns across the United States. If you hire a top-notch home inspector, you can receive unprecedented insights into the condition of your house and map out your home interior improvement projects.
2. Remove Clutter
Let's face it – you've accumulated a vast array of personal items over the years. These items may have served you well, but they likely take up lots of space in your home. And if you're not careful, your personal items may make it difficult for you to show off the true size of your house to potential buyers.
If you have an abundance of clutter, there is no need to stress. You can always sell excess items online or at a yard sale, or you can donate these items to a local charity. Furthermore, if you have personal items you want to keep, you can rent a storage unit to hold these belongings until your residence sells.
3. Clean Each Room of Your Home
Maintaining a neat, tidy home is essential, particularly for an individual who wants to sell his or her residence as quickly as possible. If you perform regular cleaning tasks, you can keep your house looking great for the duration of the property selling journey.
Oftentimes, it helps to make a list of daily, weekly and monthly cleaning tasks. If you stick to a regular cleaning schedule, you can ensure each room of your home will dazzle at all times.
As you look for ways to upgrade your home's interior, you may want to hire a real estate agent too. This housing market professional is happy to provide home interior improvement recommendations and suggestions. Plus, he or she can put you in touch with the best local home interior improvement professionals.
In addition, a real estate agent provides extensive guidance throughout the house selling journey. He or she will help you list your home, promote it to the right groups of potential buyers and much more. And if you have home selling concerns, a real estate agent can address them right away.
Improve your home's interior – use the aforementioned tips, and you can bolster your house's interior before you add your residence to the real estate market.